Folusho Holloway
Manager, Marketing and Communications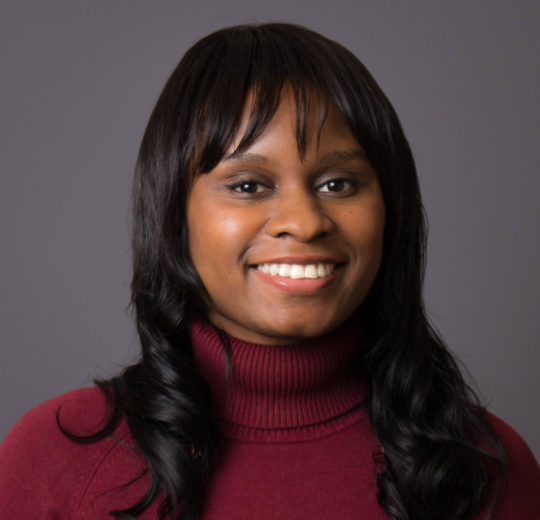 As Manager of Marketing and Communications, Folusho Holloway uses traditional and digital marketing techniques to support Turnaround for Children's efforts to translate the science of learning and development into tools, practices and systems for educators to help all students thrive, particularly children who have been impacted by adversity. Folusho collaborates with teams across the organization and works closely with the Director of Marketing and Communications to manage and support Turnaround's website, blog, social media, thought leadership initiatives, partner impact work, fundraising appeals, media relations and more. Folusho joined Turnaround in 2017 as Manager of Digital Marketing.
Prior to joining Turnaround, Folusho was an Account Manager at eMarketer, a digital marketing research company, where she managed corporate client accounts for Fortune 500 companies. Prior to eMarketer, she interned at the Clinton Foundation, the United Nations and Malaria No More, where she was instrumental in the launch of online campaigns and initiatives. 
Folusho's interest in education began when she volunteered as a teaching assistant in elementary schools in Asaka, Ghana and Atlanta, Georgia. She saw first-hand what access to vital resources can mean for childhood education in underserved communities. This led her to believe that with the right publicity and awareness, she could help mitigate social injustices. 
Folusho holds an M.S. in public relations and corporate communication from New York University and a B.S. in marketing from Pennsylvania State University. A budding comedienne, Folusho has also completed a beginner's improv course at the People's Improv Theatre (The PIT) in New York City.
Who do you admire most in your life?
I admire all the strong female figures in my life. From my grandmothers to my mom to my sisters, they are some of the most incredible people I've known. They've all shown me that with a mustard seed of faith and determination you can do absolutely anything.
What book has influenced you most?
Helio Fred Garcia's, "The Power of Communication: The Skills to Build Trust, Inspire Loyalty, and Lead Effectively." In this phenomenal book, I learned that it's not what you say but HOW you say it that can make or break any situation.
Join Our Team
Put your skills and ideas to work in the schools that need it most. Join Turnaround for Children to help fulfill the promise of public education for all students.