Prioritizing Student Well-being and School Connections
By Along

Students at Thompson Intermediate School in Houston, Texas
Photo credit: Along
This blog is the first in a series of guest posts from partner organizations whose work implements whole-child design in practical and tangible ways for educators. Positive relationships build strong brain architecture and provide a protective buffer to the negative impact of chronic stress. Read more to see how digital reflection tool Along builds and strengthens relationships between students and educators.
For Da'Marcus, an eighth grade student at Thompson Intermediate School in Houston, Texas, coming to school has felt a little different this year because he has been actively building his relationship with homeroom teacher, Emily Schwenk.
Using the digital tool Along, Schwenk posts a reflection question and asks all of her homeroom students, including Da'Marcus, to respond. The research-informed questions are designed to help students open up about a range of fun topics and to also think about important areas such as stress management.
Using the tool has helped students like Da'Marcus strengthen their relationships with teachers. "I feel like if I need something, they're going to be behind me," explained Da'Marcus.
Since she started using Along this year, Schwenk has noticed that students "don't feel as intimidated to speak to adults," she said. "If they have an issue, they've built that line of communication and they know how to reach out. It's definitely helped bridge that gap with how to communicate and connect with the adults who are there to help you."
How Does Building Relationships Support Academic Success
The research is clear—when a student has at least one relationship with a supportive and caring adult, they are better equipped to handle adversity as they move through life. Students who have a strong relationship with a teacher feel more connected to school and are more motivated to work hard compared to those who do not. They are also more engaged in the classroom and are likely to be more motivated to perform better academically.
Along uses core principles from research—including the Search Institute's Developmental Relationships Framework—on how relationships can lead to stronger social and emotional competencies and academic outcomes.
Multiple studies by the Search Institute have demonstrated that when young people
experience developmental relationships with adults in families, schools, and other programs, their social-emotional competencies and academic outcomes—such as connection to school, academic motivation, and grades—are significantly stronger.
While we know that strong relationships with educators correspond to numerous benefits for students, there are barriers standing in the way. According to the recent report from Gradient Learning, "How to Close the Relationship Gap in Schools," almost half of students surveyed prefer to connect with a teacher one-on-one. However, nearly a third (31%) of students said they are not having regular check-ins with their teacher. Additionally, a total of 35% of students surveyed said they are not reaching out to a teacher because it's awkward or uncomfortable for them to do so.
Along offers a solution to help build relationships. Educators share a reflection question and then students can respond back using video, audio, or text at any time they feel comfortable. Their answers are shared directly to their teacher only, allowing for engagement that is free from peer pressure.
Establishing regular one-on-one check-ins allows students to voice their concerns and create a bond of trust with their teacher. These check-ins allow students to open up and discuss challenges they are facing. And just knowing that a teacher is there to listen and support them has long-lasting impacts on building the critical social-emotional skills students need as they mature into adults.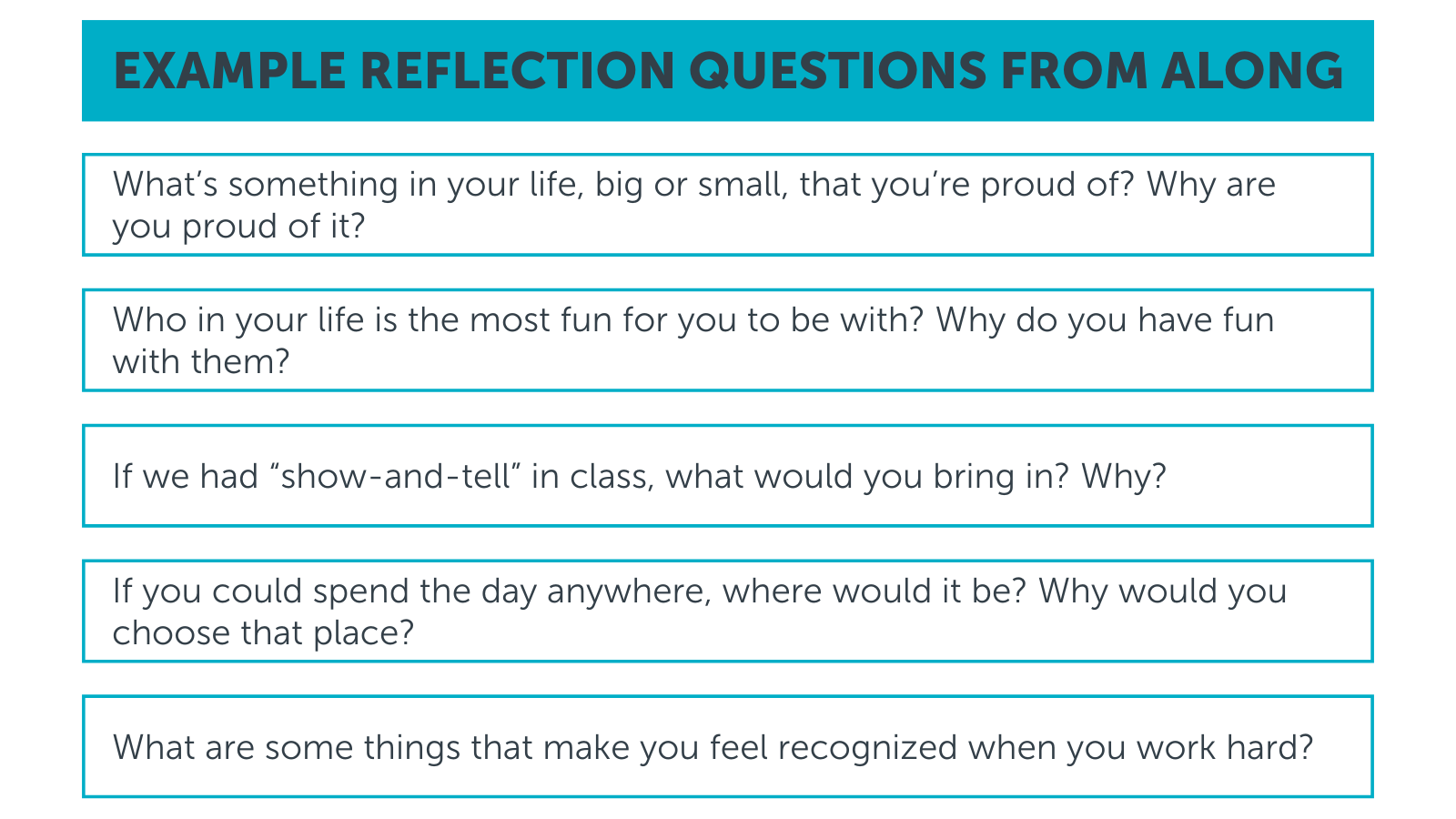 As the second semester kicks off for school year 2021-22, attention to relationship building early on will help educators get to know each of their students and create a classroom environment based on trust. Building meaningful, one-on-one relationships creates a solid foundation for students and allows them to view their classroom as a safe space.
When students like Da'Marcus feel supported, they develop stronger social and emotional competencies and can feel more motivated in school. He's already looking forward to using Along with even more of his teachers. "Through Along, I have the confidence to talk to people about how I feel," he said. "It's just amazing."