Recentering Relationships to Support Student Engagement
Learn about how one district in California is using the Toolbox to re-engage students as they return back to in-person school settings.
When students started returning to classrooms, educators weren't quite sure what to expect. What would it look like for students to see their peers and teachers after months or even a year apart? Would students be so excited to fill their social "buckets" that it would be hard to engage in academic tasks? How long would it take to develop routines and habits of learning in a school setting? How would we support kids with re-engaging with their teachers and each other?
A District Snapshot
Like many districts, Folsom Cordova Unified School District struggled with engagement for students online and even when they came back in-person. They were finding that students were shy and hesitant to connect with the teachers and each other, possibly because they were socially isolated for so long. Working with Turnaround, they were eager to test out a new theory – that they could re-engage students and families if they focused specifically on building relationships.
At FCUSD, educators first learned about the science behind relationships – the importance of oxytocin to counteract the negative effects of the stress hormone cortisol – and why being attuned and responsive to students matters so much. This information validates much of what educators already know from experience – when you connect with your students they are more likely to be engaged in your class and excited about learning.
A strategy that caught teachers' attention was the Banking Time tool, based on research by Dr. Robert Pianta and colleagues at the University of Virginia. When you engage in "banking time" with a student, you are investing in a relationship through quality one-on-one time that goes beyond friendly conversation. Building this relational capital is important for humanizing the school context, fueling learning, and navigating challenging circumstances.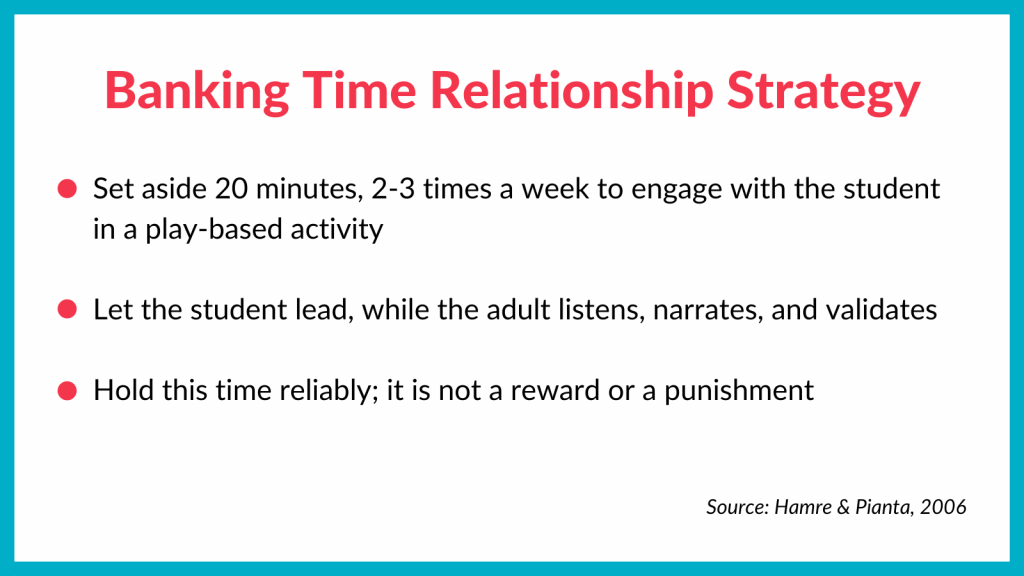 A Classroom in Action
Denice, a teacher at Cordova Villa Elementary School in FCUSD, was excited about the immediate impact this strategy had in her classroom. She found that students responded quickly, even the same day, when she made the first connections. Of one student who she had noticed struggling, Denice says, "Just talking to her that day, I saw her kind of calm a little bit. Because she got to talk about what she wanted and share her experience."
This focus on relationships has felt particularly important right now. Denice notes that some of her first graders haven't had a full year of in-person school. They aren't really sure about the environment or the teachers. Denice notes, "Feeling comfortable with me, knowing that they're not going to get in trouble, that something bad's not going to happen to them for trying something new. Relationship building, it helps."
Even though focusing on relationships wasn't new, Denice found Banking Time to be a helpful reminder and structure, particularly in this time when there is so much pressure on teachers to make up for "lost learning." Says Denice, "My teacher brain is, 'I have to work, work, work, work, work.' It's so helpful to have a tool that reminds me, 'Wait a minute, step back, they're six. They're not going to work that hard until they have a little more relationship buy-in here.'"
A Call-to-Action
As the current school year is wrapping up and we start to plan for a fresh start in the fall, this glimpse into one school system reminds us that investing in relationships is one of the best investments you can make to ignite the potential of young people. Check out the Banking Time tool and other Individualized Relationship Strategies on The Turnaround for Children's Trust-Building Interactions page. Then come back again and again to explore the rest of the Turnaround for Children Toolbox – a hub of science-grounded and equity-driven resources to support each child and their holistic development.